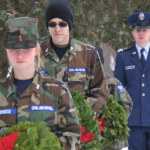 The members of the La Crosse Composite Squadron will again this year honor fallen veterans as part of the national Wreaths Across America ceremony. The ceremony will be held on Saturday, December 13, 2014 at the Woodlawn Cemetery on La Crosse's south side.
We are asking for your help to honor our fallen veterans. Donations can be made in one of three ways:
Go to our online fundraising page and donate! Each wreath is $15, of which $5 returns to our squadron to help support our work.
Download the order form and complete it. Make out a check to "Wreaths Across America TM". Mail the check and form to: La Crosse CAP, 2906 Fanta Reed Road, La Crosse, WI 54601.
Download the order form and complete it. Stop by our squadron headquarters on a Saturday morning and pay with cash.