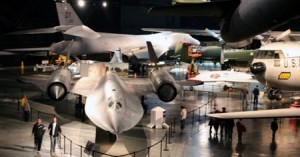 Do you love airplanes?
Do you want to see some of the coolest airplanes in the world?
Want to get up close with… a B-2 Stealth Bomber? A F-117 Stealth Fighter? A Space Shuttle?
Then don't miss our squadron's first trip to the United States Air Force Museum! The USAF Museum has one of, if not the, greatest assemblage of aircraft in the world. Guests can see living history from some of the great aircraft that helped us win World War II, experimental craft that were cutting edge at their time, and today's aircraft that US forces use across the globe.
The Details:
We depart La Crosse at 0800 hours on Friday, 20 FEB.
Overnight stays in Dayton, Ohio on Friday and Saturday evening.
Return on Sunday around 1830 hours
Cost is $43.00. Upon departure each cadet will receive $32 of that back to use for food. The trip will provide dinner on Saturday evening at no cost to cadets.
Packing list: Blues uniform (including white V-neck shirts and black socks), civilian attire, swimsuit, toiletries, entertainment for the drive, CAP ID card. We will wear the blues uniform while touring the museum.
Only 22 slots are available!
To sign up, register online by clicking here
And pay for the trip by clicking here!
Download, complete, and return the event permission slip: