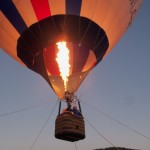 This Saturday's meeting we will be experimenting with hot air balloons! Maj Ray Ebert will be bringing his hot air balloon and firing it up outside. There will be hands-on experiments with hot air balloons and more!
Please wear warm layers under your BDUs. BRING HATS AND GLOVES!
Meeting begins at 0900 hours and will run until 1200 hours.