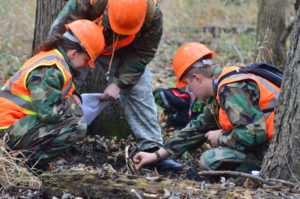 More than 15 members of the La Crosse Composite Squadron spent a windy, chilly November Saturday developing their skills in radio communication and ground search and rescue. Under the direction of Major Richard Martin, who served as the Incident Commander, the members divided into different working groups. Newer cadets focused on completing General Emergency Services training and in qualifying to be Ground Team Member trainees.
More advanced members went into the field to conduct a search for a simulated lost kayaker. The team needed to find and identify clues that pointed towards the possible location of the kayaker. After the search training, the ground team trainees worked on shelter building, victim extrication, and fire building.
Major Linda Zimmerman, who served as the Ground Branch Director for the mission, reported that a number of members completed all the training for different emergency services qualifications including:
C/CMSgt Dominic Janssen completed the requirements for Ground Team Member 3
Major John Patterson also completed the requirements for Ground Team Member 3
2d Lt Mike DeWitt completed the requirements for Mission Radio Operator.
The completion of GTM3 training for Cadet Janssen and Major Patterson marks the sixth and seventh new ground team members created this year by the squadron. During 2017, the squadron has almost tripled its ground search capabilities.