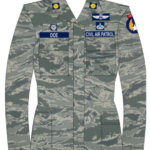 A uniform change is coming! Effective 15 JUNE the Airman Battle Uniform (ABU) will be authorized for wear by CAP members. Over the next six years CAP will slowly replace our current utility uniform, the Battle Dress Uniform (BDU), with the Airman Battle Uniform. As many members and parents will have questions regarding the switch, here is a simply FAQ regarding the change:
Wait, which uniform are the BDUs? These are the woodland camouflage uniforms that we currently wear. They are being replaced by the uniform shown above.
Why is the change happening? The Air Force is our parent organization and the ABU is their current uniform. A second benefit of the change is that our  supply of BDUs is near exhaustion. We used to be able to receive surplus BDUs from the Air Force, but since the Air Force stopped wearing BDUs more than 10 years ago the supply is now almost completely exhausted. This change will allow us to start receiving surplus uniforms again and will ensure a supply for years to come.
Do I have to go out and buy new uniforms? No! The switch over is not mandatory until 2021. By that time we should have an ample supply of ABUs so that they can be issued.
How will we decide to issue uniforms? Per guidance from National Headquarters, uniforms will be issued in the priority order:

Cadets
Senior members who work in Cadet Programs
Senior members who work in Emergency Services
Any other Senior Members

Will I need to order new patches and things? Yes. These cannot be ordered from Vanguard until 15 JUNE. The new uniforms will require dark blue nametapes and CAP tapes with silver lettering. Senior member and cadet officer grade insignia will also be on a dark blue background. At this time it is unknown what other patches, if any, will be authorized on the ABUs. Do not attach the squadron patch to your ABUs until final uniform rules are published that authorize it.
Will I need to get sage green combat boots? No. CAP's variation of the ABU utilizes black boots.