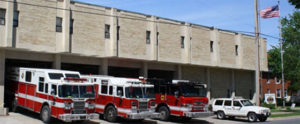 Members of the La Crosse Composite Squadron participated last week in an orientation to the La Crosse Fire Department at the department's downtown station. During the orientation, fire personnel provided a tour of the station as well as familiarization with the different equipment firefighters use. Members learned about the department's role in water and fire rescue, as well as seeing what the daily life of a firefighter is like.
Cadets had the chance to learn about what it takes to become a firefighter, and met with a number of La Crosse firefighters. The tour was arranged by Fire Chief Ken Gilliam. Chief Gilliam is also a member of Civil Air Patrol.
After the tour, members received an orientation to fire extinguisher safety and general fire safety. Members watched an eye-opening video that showed the difference in time it takes for a room filled with modern synthetic materials to burn versus a room filled with older, more natural, materials such as wool, cotton, and linen.