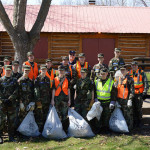 The La Crosse River Marsh gives a home to abundant wildlife, serves as a critical wetland that prevents flooding, and provides local residents with a variety of recreational opportunities.  However, for some folks it also serves as a place to dump garbage and refuse.  As part of the La Crosse community's Earth Day clean up efforts, 22 members of the La Crosse Composite Squadron joined forces with WisCorps staff and volunteers to help clean up a portion of the marsh.
This year marked the second year the squadron help out in the community effort.  This year the squadron adopted Red Cloud Park in northern La Crosse.  The park's namesake was Corporal Mitchell Red Cloud, Jr.  Corporal Red Cloud served in the Korean War and was posthumously awarded the Congressional Medal of Valor.
The squadron divided into teams to cover the more than five acres of parkland.  The terrain proved challenging as it included marshland, steep hillsides, and heavily wooded areas.  After completing the work the teams took their collected garbage to a central dumping point where the waste was sorted into recycling piles.
Overall the teams worked for more than three hours and collected more than 100 pounds of refuse including televisions, garbage, and more.  "It was great to help out and bring some much needed manpower and expertise to the day's efforts," said Captain Linda Zimmerman who served as the liaison between the Civil Air Patrol teams and WisCorps project managers.