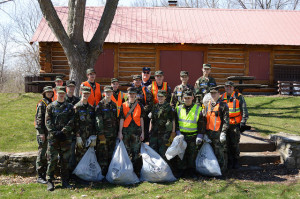 Reminder! Tomorrow is our annual Earth Day Clean Up and Community Fair at Myrick Park.
This activity is open to ALL members as well as family and friends. There's a lot of area to tackle so we're asking all members to come support this community event! Plus we want to make sure the greater La Crosse community sees and knows about the great work our squadron does.
Come join the greater La Crosse community as together we all help tackle cleaning up the La Crosse Marsh and the nearby parks and public areas that let us all enjoy the ecological gem that is in our midst!
Please arrive at the Myrick Park Gun Shelter (near the Myrick Park Center) by 0900 hours. Lunch will be provided and we will be done by 1300 hours.
Uniform is ABUs/BDUs for cadets and the same for senior members as well as corporate or Blue BDUs.
We will spend the morning working as a team to remove litter and items that pollute our environment. Based on past years, you never know what gems we will find!
Cadets: Please bring the attached permission slip along with you. There will be blank ones available on-site as well in the event you don't have a printer.

Earth Day Clean Up (100.9 KiB)