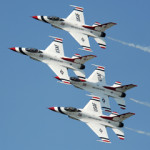 The annual squadron day trip to the EAA Airventure Airshow will be Friday, 01 AUGUST.  This year the airshow will feature the US Air Force Thunderbirds!  You can find out more about the airshow at the AirVenture website.
SIGN UP FOR THE AIRSHOW ON THE SIGN UP PAGE!
Uniform of the Day:  BDUs.  Meet at Squadron HQ at 0600 hours.
Cost:  Admission for seniors is $43.  Cadet admission is $22.  Cadets who are EAA members pay $18.  Note that most cadets should have received a complimentary EAA membership after their first orientation flight.  Those sign-ups were done in the past few weeks so watch the mail for your card.
Food:  We will stop en route for breakfast (or bring your own).  We will eat on site at the airshow for lunch.  We will stop en route back for dinner.  Bring money for food.  Food costs at the airshow typically run high.  A good estimate is to bring $30 for food.
Transportation:  We will take the squadron van.  Please bring $10 for fuel.  Depending on numbers that amount may be decreased.
Other items:  If you wish to buy a souvenir or other item please bring extra money.
SIGN UP FOR THE AIRSHOW ON THE SIGN UP SHEET HERE!
Download the information sheet and permission slip here: