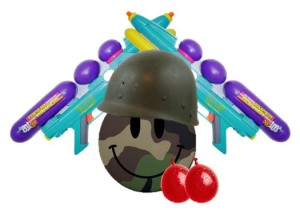 Please mark your calendar to attend our first La Crosse Composite Squadron Combat Dining in.  A combat dining in is a relatively new military tradition that follows the protocol of the formal military dining out with a few changes: wearing camouflage, games, no guests, and lots of fun.
WHAT:    Participate in camaraderie in the military combat dining in tradition. Dinner will be served, the mess will open, and competition games will begin. You will eat, you will compete, you will get wet, and you will have fun.
WHO:      All squadron members (no guests)
WHEN:    June 21st, 2014 at 1800 hours  (rain or shine)
WHERE:  Grass area outside the Squadron HQ
COST:      $10 per person
UOD:       BDUs.  Any creativity is allowed; prepare for battle.  Creativity
could include but is not limited to: old uniforms, face paint, helmets, ghillie suits.
Any modifications to your uniform must be temporary, quickly reversible, in
good taste, and found favorable by the President of the Mess.
OTHER:  No equipment will be issued.  Suggestions include but are not
limited to: super soakers, water pistols, and water balloons.  All equipment must
be safe and found favorable by the President of the Mess.
Please register here !