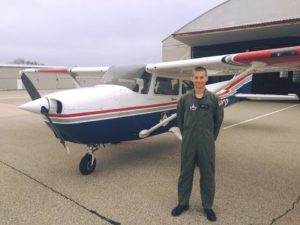 Some teenagers learn to drive, others learn an instrument, but for Cadet Chief Master Sergeant Andrew Zittlow and Cadet Master Sergeant Seth Tiedeman their goals literally aim higher. These two Civil Air Patrol cadets recently began flight training with the goal of earning their Private Pilot's Certificates.
Zittlow began training in April with his flight instructor, Captain Orin Wiseman. Wiseman, also a CAP member, has trained many pilots and holds commercial flight and instructor ratings. When Zittlow joined CAP four years ago he had an interest in aviation, but wasn't sure about flying. After completing his course of Air Force sponsored orientation flights, he found himself hooked. Someday he would like to fly commercial aircraft or attend the Air Force Academy, and realizes that earning his flight certificate now would be a strong step towards his goals.
Cadet Tiedeman has wanted to fly ever since he joined CAP. This summer he will attend the EAA's Basic Air Academy in Oshkosh. During the academy Tiedeman will have the chance to fly and participate in workshops. According to the EAA's Director of Museum and Museum Education, Bob Campbell, "The EAA Air Academy teaches young people new skills and instills a pride of craftsmanship." Participants in the Air Academy comes from around the United States as well as several other countries. After he returns from the Air Academy, Tiedeman will begin CAP's flight training program.
"For a young person who wants to learn to fly, there's no better place to be than in the Civil Air Patrol," said Major Todd Mandel, the local unit's commander. While learning to fly as a CAP cadet is not free the costs are greatly reduced since the flight instructor donates his or her time. Eligibility to enter training requires a CAP cadet to reach a certain level in the program and show required levels of maturity and responsibility.