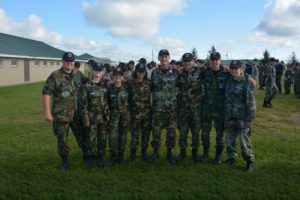 Camp Atterbury, Indiana. – After spending a week in the forests and training areas of Camp Atterbury, Indiana, Cadet Technical Sergeant Elyas Dewitt has a whole new set of skills and abilities that he can use to help people. Dewitt attended the Civil Air Patrol's National Emergency Services Academy where he trained alongside more than 100 Civil Air Patrol members from around the nation.
The school, found in 1996, provides top tier training in ground search and rescue, aircrew training, and incident command. Before attending, Dewitt needed to complete his certification as a Ground Team Member before attending the school. During the school, he completed training that advanced his ground team readiness to the highest level that Civil Air Patrol has. Cadet Dewitt now has the highest level of ground search training among cadets in the La Crosse squadron.
As an advanced ground team member, Dewitt will train other CAP cadets and adults in search and rescue skills. He will also respond as part of the La Crosse search team when the team receives a call to search for missing persons, overdue aircraft, lost hikers, and missing boaters. The La Crosse team has participated in recent high-profile searches including a downed aircraft near Holmen and a missing person in Juneau County.