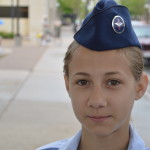 So you want to become a Civil Air Patrol cadet?  Great!  Cadet membership is open to youth who are at least 12 years old and in the sixth grade and have not yet turned 19 years old.  The process looks like this:
Step 1.  Plan to visit a meeting.  Take a look at our calendar and see if we are going to at the Squadron Headquarters on the Monday you wish to visit.
Step 2.  Fill out the Visitor Form below.  This will simply let us know when you're planning to stop in so we can be sure to have members available to meet and talk with you!
Step 3.  Come visit a meeting and find out more about us.  Prospective members must visit three meetings before joining.  During your second and third meetings we will work on all the things you need to be a successful CAP cadet.  At your third meeting, bring your parent so that we can complete your membership application and you will be a member!
Step 4.  After your third meeting we will help you submit your membership application, administer the Cadet Oath to you, and issue you your uniforms.  Congratulations!  You have joined the CAP Cadet Corps!