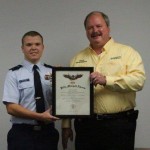 Aden Erickson reached a long pursued goal when La Crosse County Sherriff Steve Helgeson recently presented him with the General Billy Mitchell Award during a ceremony at the La Crosse Composite Squadron's facility.
Erickson, a Bangor High School senior, has been a Civil Air Patrol member since 2012. During that time he has served as the Cadet Emergency Services Officer and has been an instructor with the unit's ground search team.
The Billy Mitchell award, the second cadet milestone achievement, is earned after the successful completion of the first eight achievements of the cadet program. In addition to the achievements, the cadet must pass a comprehensive examination on aerospace and leadership. Only about 15% of all Civil Air Patrol cadets achieve the Billy Mitchell Award.
Billy Mitchell Cadets who enlist in the U.S. Air Force are promoted to E-3 (airman first class) instead of E-1 (airman basic) upon completion of basic military training.
The La Crosse Composite Squadron meets on Saturday morning at the Civil Air Patrol training facility at the La Crosse Municipal Airport. For more information about the La Crosse Composite Squadron, contact Major Todd Mandel at 608-633-1496 or todd.mandel@gmail.com or visit www.caplacrosse.org.
Civil Air Patrol, the official auxiliary of the U.S. Air Force, is a nonprofit organization with more than 61,000 members nationwide. CAP, in its Air Force role, performs 90 percent of continental U.S. inland search and rescue missions as tasked by the Air Force Rescue Coordination Center and was credited by the AFRCC with saving 112 lives in fiscal year 2010. Its volunteers also perform homeland security, disaster relief and drug interdiction at the request of federal, state and local agencies. The members play a leading role in aerospace education and serve as mentors to the more than 25,000 young people currently participating in CAP cadet programs. CAP has been performing missions for America for 68 years. For more information about the CAP, go to www.caplacrosse.org orwww.gocivilairpatrol.com .